Design a scientific outdoor fitness park and attract people to exercise
When we think of exercising, our first thought is often an indoor gym rather than an outdoor park. Interestingly, people who used the outdoors often found it easier to build an exercise routine than those who worked out indoors. While indoor sports facilities have their benefits, outdoor parks are a great solution in reducing stress and health crises for some people.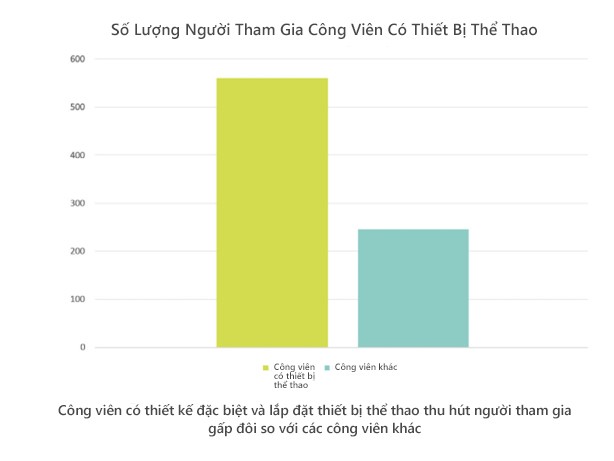 If you've been thinking about adding outdoor exercise equipment to your park or recreation area, Fitness Source has some helpful tips for you to consider in creating that space. Scientific way, perfect and appealing to people of all ages.
Benefits of designing based on research and surveying trainee needs
According to many studies, the demand for outdoor fitness space, if appropriately designed and based on practice design principles, is the best and brings the highest efficiency.
The first study found that a thoughtfully designed outdoor fitness park by pre-surveying the needs of people living nearby to use fitness equipment would attract twice as many people as other parks and outdoor fitness. It demonstrates how popular these parks are in the community, and research-based design is crucial to the planning process.
The second study found that 63% of outdoor fitness equipment users were actively engaged and more active at moderate to vigorous levels – a necessary milestone for exerciser health. It shows that a person can achieve a workout effect using outdoor fitness equipment.
Other benefits of outdoor fitness park
Many residential areas realize that other benefits of outdoor fitness parks are improving the quality of life, getting along with people, being proud, and loving the living space more. It helps people remove the barrier to better health by providing a free alternative to costly indoor gyms.
Planning to install fitness equipment at the Park
A park designer, before purchasing and installing outdoor fitness equipment at a park, should consider the following:
Skill level (beginner – fitness enthusiasts)
Age (adolescent – elderly)
Users with disabilities
Multilingual users
User alone
Safe distance when placing the device
Who is popular when participating in exercise?
Evenly distribute each function of sports equipment
Fitness Source
Fitness Source offers a variety of outdoor exercise equipment that meets the trainer's considerations. Outdoor fitness products are an excellent solution for an all-around experience, with a wide range of equipment for adults of all ages and different fitness levels, even those who need to exercise, physical therapy in movement.
Not only that, Fitness Source helps make a difference and brings many benefits to your residential community. Designing an outdoor fitness park with spaces that engage people and provide the right experience requires research and planning.
Contact Fitness Source today! We will always answer all your questions and support you most efficiently and optimally.