Why Is Fitness Equipment At The Park A Trend?
In sports, outdoor exercise is chosen by many people because, in addition to satisfying their passion, the practitioner can also breathe fresh air and make friends with nature. Not only that, this form of exercise does not cost much, with just a pair of shoes, anyone can start walking, jogging, full-body movement every day.
In recent years, to meet the health training needs of the people, local authorities have installed functional areas specializing in outdoor fitness equipment in parks.
These areas focus on a lot of exercise equipment, supporting exercises from simple to intensive, helping improve health, and bringing the beautiful body to users. In the content below, let's find out with Fitness Source about the effectiveness of installing outdoor fitness equipment at the park.

Construction of outdoor fitness equipment
Outdoor fitness equipment are training aids, providing a variety of exercises, helping users practice different movements to achieve the goals of improving health, improving endurance. If there were not many types of equipment in the past, mainly single and double bars, today the equipment system is no different from a professional outdoor fitness with a full range of intensive exercise machines for each part, full-body exercise machine.
Outdoor sports equipment is made from cast steel, and the outside is powder-coated. The parts are linked together by large screws or technical welding. During installation and construction, the base has dug a hole and buried behind the ground, and thick concrete is poured into fixing it. Create joints in shaft joints using ball bearings to create movement.
In general, outdoor fitness equipment has a simple structure so that anyone can use it and has few problems during use, especially with the feature that the equipment is placed outdoors, subject to frequent rain and sun.
Classification of outdoor sports equipment
Hand-shoulder equipment: single bar, double bar, hand-stretching equipment, turntable to practice qigong, chest push-up machine. Provide exercises to strengthen hands and develop biceps muscles, enhance flexibility for wrist, forearm, shoulder joints.
Equipment for legs – thighs: Treadmills, aerial walkers, foot pedals, squat machines. Provides exercises that enhance flexibility and suppleness for the legs, thereby Realistic better body support and movement function.
Tools for hips – waist: Outdoor waist turntable, waist training equipment, abs chair, abdominal chair. Support users to practice intensive movements for round 2. Bring a hunting waist, firm, slim.
Outdoor exercise equipment: Horizontal ladders, vertical ladders, zigzag bars, hip hurdles. Designed for teenagers, they both have fun and practice, helping to enhance their ability to exercise, mobility.
Warm-up equipment: the park equipment also has a group of warm-up tools, supporting users to practice warm-up movements, getting ready for intense exercise when officially practicing. Warm-up is mandatory for any sport. It also helps reduce the risk of injury.
Massage equipment: Outdoor sports equipment includes massage equipment for body parts from legs, arms, waist, back, neck to help users relax after exercise, relax their muscles and relax muscles, restore the body, promote exercise efficiency.
Benefits of outdoor fitness equipment
The use of fitness equipment in the park brings many benefits to users regarding health, fitness, and spirit. There are also many other effects:
Improve training efficiency: If in the past, outdoor training was often quite simple with jogging around the park, doing singles and double bars, today users are supported by a diverse system of machines. Equally in the indoor gym, helping to improve training efficiency.
Free to use: Park machines are gradually being covered in parks and other public places across the country. The use of the equipment is free, providing the opportunity to exercise for everyone regardless of age, gender, medical condition.
Building a community culture: Working out together in an area with many different types of exercise machines installed, or many users using one device gives users the opportunity to socialize, share with people with the same interests, the former only shows the latter, thereby being more open, sharing about work and life; Building solidarity, harmony, enhanced community cultural life.
Strengthening resistance: Exercising and sports help improve health and enhance the body's resistance against bacteria and viruses that enter from the outside.
Stress reduction: Exercising with sports equipment at the park helps users relax their mood. The first is to focus on the practice instead of the negative emotions. The second is contact with the scenery, and nature has a calming effect on the soul. Exercise is also proven to help the body produce hormones that improve the mood, such as Serotonin, Oxytocin, Endorphins.
Through the above analysis, the use of outdoor fitness equipment brings many benefits to users. The installation of equipment in parks, as well as other public places, is also very effective. That's why functional areas specializing in park exercise machines are becoming more and more popular in localities throughout the country.
Where should you buy outdoor fitness equipment?
As mentioned above, outdoor sports equipment includes many types, providing maximum support for users when exercising and bringing many benefits. However, to choose to buy quality, genuine equipment and a good warranty, not everyone knows.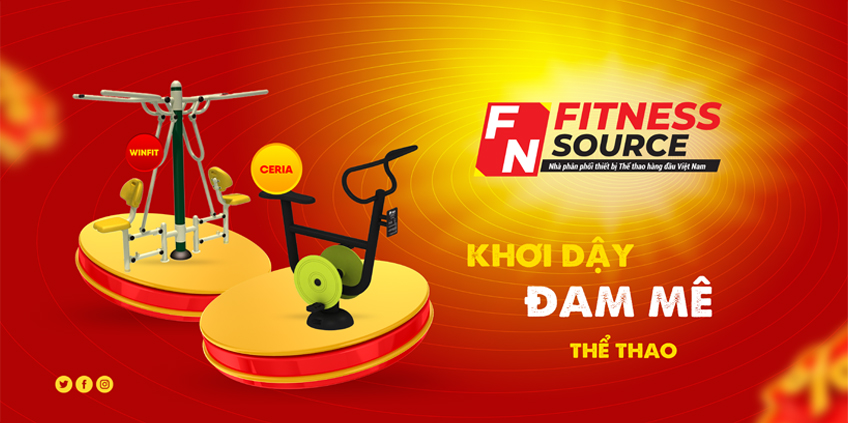 Fitness Source is one of the leading units in the field of providing outdoor fitness equipment. Our products are full of lines from popular to high-end used in parks, playgrounds, hotels, luxury resorts. Exceptionally fully functional with groups of warm-up devices, equipment to exercise arms and shoulders, legs, thighs, waist, hips, movement, or relaxation massage equipment. We are committed to product quality that will always be durable, time.
Coming to Fitness Source, a team advises customers of professional consultants knowledgeable about products and services. Besides, there is a team of skilled technicians experienced in the construction of many functional areas specializing in outdoor equipment, with the ability to quickly and correctly install and execute.
Above are some sharing of Fitness Source about the effectiveness of installing fitness equipment in the park. This article has learned about park machines, the benefits of using them, and the point of equipment. If you have any other questions or concerns about outdoor sports equipment, features, usage, or need equipment. Please get in touch with Fitness Source for specific advice.